For which goods is Fulfillment ideal?
There are articles that already exist in this country from a legal point of view unsuitable for fulfillment or otherwise problematic to handle. However, the majority of all goods that can be ordered online are just as excellent for the Fulfillment, which for many online shop operators can mean a great relief in everyday business - because what is ordered must also be shipped.
There are basically not many limits to the fulfillment itself. On the contrary, service providers in this area are making more and more things possible that are not only relevant for offline and Online shop operator could hardly or simply not at all be mastered on their own in the past.
If, for example, you consider how many goods and products can be ordered fully online nowadays, it becomes clear for which goods Fulfillment is suitable, for example:
Clothing and accessories
office supplies
cosmetics
Furniture
domestic appliances
electrical appliances
tool
Books
sound carriers
Thus it can be generally said: Fulfillment is suitable for any kind of goods with which the client - except for sales and distribution - can or would like to have so little to do with himself. The limits here are at best within possibilities of the fulfillment service for example if it has too small storage areas for large-volume goods such as furniture, no cold stores for the storage of foodstuffs or, in accordance with §67 Paragraph 1 AMG (Arzneimittelgesetz - German Medicines Act), no authorisation for the storage and dispatch of medicines. However, a general restriction does not exist in fulfillment nearly at all.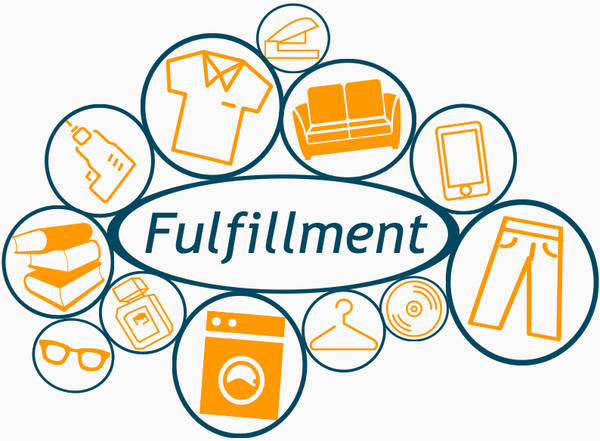 Conversely, this also means that the type and size of the shop are also not per se decisive for whether a fulfillment service provider should be commissioned or not. Finally does the online shop operator benefit from completely optimized processes and the highest possible flexibility and convenience: Own storage space is not required and resource-intensive work such as packaging, picking, packing, the entire dispatch logistics and returns management are completely or partly outsourced to professionals**. The latter point is of particular interest to suppliers in the clothing and fashion sectors, where the return rates are higher than in other sectors.
Result:
Not the possibilities of fulfillment or the company or shop size are decisive, but rather the fulfillment and accordingly the fulfillment service must adapt to the increased requirements of the online customer **.